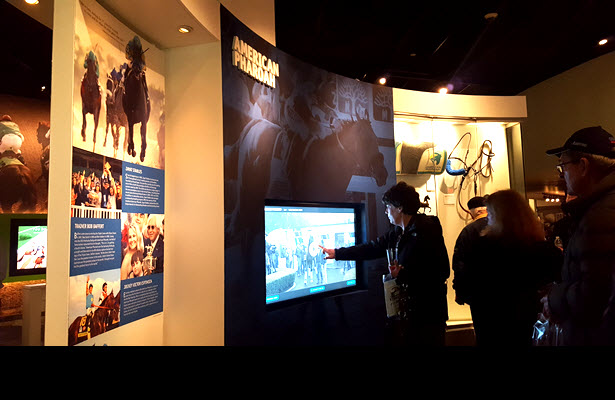 Photo: Candice C. Curtis

Racing fans can relive American Pharoah's magical 2015 Triple Crown win with a new, permanent exhibit at the Kentucky Derby Museum in Louisville, Kentucky.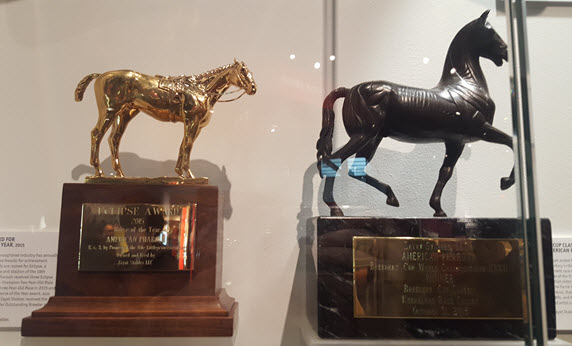 The interactive installation was unveiled Feb. 16 in a special Maker's Mark bourbon-infused event hosted by the museum's bourbon authority, Fred Minnick.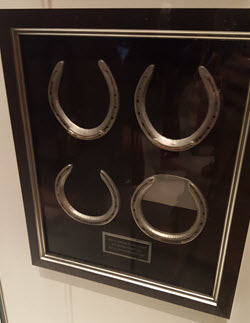 Around 300 attendees enjoyed testing out the display's touch-screen timeline of American Pharoah's career and even got a close look at the special shoe the champ wore during his three-year-old season.
Among the other highlights of the new exhibit are Victor Espinoza's bedazzled silks from his stint on the show Dancing with the Stars.
Along with the great racing memories, attendees got the inside scoop on the Derby Museum's exclusive bourbon bottle from Minnick and his guests, the bourbon's creators – Maker's Mark CEO, Rob Samuels, master distiller, Greg Davis, and maturation specialist, Jane Bowie. Guests (of age) could sample the unique spirit that was created specially for the museum. The bourbon's flavor profile was enhanced with cuvee staves during the aging process, which gave the final product a smoother, caramelly flavor profile (yum!).
This special bourbon is limited to 228 bottles and is only available at the museum.
American Pharoah takes his place among the 11 other Triple Crown legends in the museum's main gallery. It is quite an experience going from one pillar to the next, hearing the stories of Secretariat, Seattle Slew, and Affirmed from their connections, and then seeing the horse of the modern era in full, HD flight on screen ahead. If you're a racing fan, the Kentucky Derby Museum has always been a must-see, but this makes the history collected there feel even more personal and alive.
The Kentucky Derby Museum is open daily – check the seasonal hours and admission info at the official website.
Source link